Unoform
The plant material of the pot and cut Anthurium product ranges will change in 2020. This relates to both the plugs and the end products. With the introduction of this new starting material, we offer you an even better quality product. The number of product types is also increasing, providing you with more choice.
The new product type is a plug that is grown as a single plug. Thanks to improved sorting, several plugs of the same grade are put together and finally delivered. The biggest change is that you will need to plant two single plugs together at the nursery for a more uniform end result.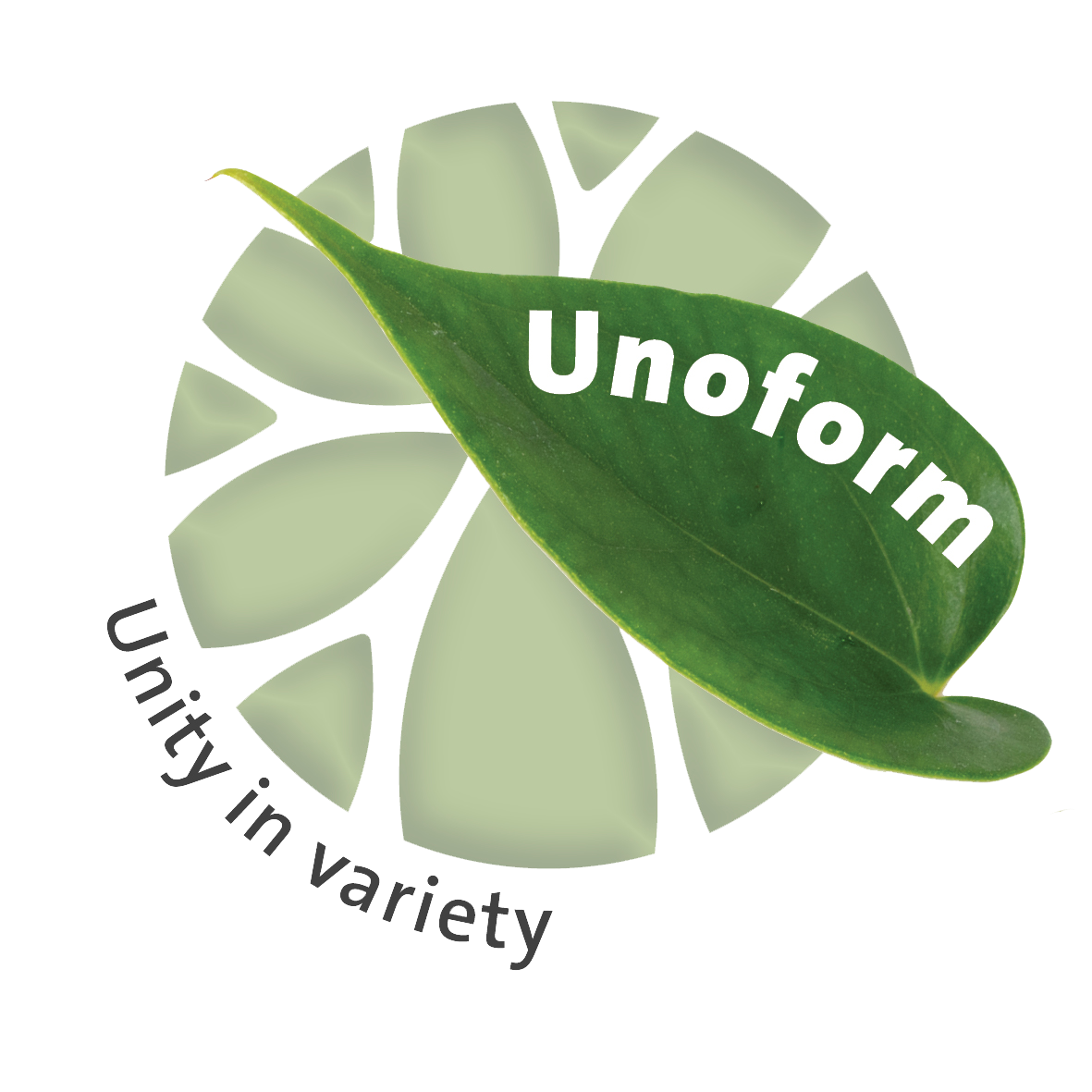 What is unoform?
Unoform is the new standard for Anthurium plugs. Production will start in October 2019. After two years of development, the implementation of an innovative and more uniform plug is a fact. Unoform stands for unity in diversity. With Unoform it is possible to supply the most uniform starting material at a competitive price.
The first sorting and planting machines have now been installed at our production site. The biggest change in the process is that the starting material is rooted as a single plug in a 180-cell tray. After sorting, these are sorted and put back with 90 plugs in a new 180-cell tray.
The plugs will be analysed by a new, advanced camera and will be reset to the same grading based on an improved analysis. The result is a tray of uniform plugs.
The advantages at a glance
- Planting two single plugs together results in a significantly more uniform cultivation with a higher percentage of finished plants of good and uniform quality;
- Another advantage is that the total cultivation time is reduced because the flowering areas in the greenhouse can be emptied more quickly. With naturally less uniform varieties, the difference will be particularly noticeable;
- Growers that previously ordered a PP2 will now receive two PP1Ls, which they will plant in a larger pot themselves. The volume per shipment remains more or less the same. There are more types available that exactly match the pot size you have grown.
New product type
We have added a new product type: 6PP2 in a 28-cell tray. In total there are five standard product types for pot Anthuriums.

Type 6SP1 new for Anthurium cut flowers
For starting material of cut Anthuriums, there is a new product type in a 28-cell tray. This is a 6 cm plug type (6SP1). Growers can put these plants in the tray and grow them up to a height of 20-25 cm. The old OP1 type will be discontinued. Growers who want to continue growing to a plant size of 30-40 cm, for example, are advised to buy plugs and then pot them themselves in a 9 cm pot. The 6 cm plug is not suitable for growing into a larger plant.


After extensive research, we decided to use a paper plug. The main advantage of the paper plug is that the structure of the plug allows better moisture absorption after transport. The development of the roots in this paper plug is also better. The plugs then grow more uniformly.
Numbers per export shipment
· PP1L/SP1 packed loose in an i10 with 1260 plugs per box
· PP1L/SP1 in 180-cell tray in an i10 with 720 plugs per box
· 6PP2 loose in an i10 with 150 plugs per box
· 7PP2 loose in an i10 with 90 plugs per box
· 6SP1 loose in an i10 with 140 plugs per box
Planning
The first machines were installed in September 2019 (phase 1) and put into operation in October. From now on, we will plant a part of the assortment as Unoform, sort it, replace it and transplant it. The first commercial batches of the new article type will be delivered from December 2019, after which the capacity of the machines will be increased in the spring of 2020 and then the new article types of the full range of Anthuriums for both pot culture and cut flower culture will be produced and delivered.
In a nutshell, with Unoform, Anthura is offering you
· More variety in product types, which are better suited to the pot size you are growing;
· Competitive pricing of uniform starting material;
· A better start of the cultivation thanks to the paper plug;
· Benefits in total cultivation speed due to better uniformity of the end product.
Uniformity of appearance is what Unoform stands for.
Every Anthurium customer will experience this in the coming months. Orders will be adapted to the new situation and Unoform deliveries will be scheduled.