Winner
Horticultural Entrepreneur Award 2019
Anthura won the Horticultural Entrepreneur Award 2019 in January. According to the jury, the breeding and propagation company of Anthuriums and Orchids has gained a strong international position in an impressive way. Sustainability and good employment practices are high on the agenda.
"After the celebration of our 80th anniversary in 2018, this has been a very good start to 2019," says Iwan van der Knaap. "We are the third generation and my twin brother Mark and I have been board members, together with Marco van Herk, since 2004. The other day, at a meeting of family businesses, I heard that it was good to involve a third party in the management, and that worked out well for us."
The Horticultural Entrepreneur Award, a work of art made of metal and over 1.5 metres high, is a prominent item at the counter. "We took it home immediately and are allowed to keep it. It's easy to lift. We'll take the artwork with us when we start taking pictures," says Marco van Herk cheerfully.
Cake is certainly not lacking in the interview with Marco van Herk. The prize has been widely celebrated. Several colleagues in the sector have ensured that there is no shortage of cake for the time being. Their congratulations were supported by confectioners' creations! Van Herk appreciates it, but is equally pleased with the healthy snack food trucks that another colleague will be sending soon to Anthura's three Bleiswijk locations. Treats do not necessarily have to be sweet things. And what about flowering plants as a gift for a festive occasion? Marco points to a large pot of flowering Phalaenopsis in the meeting room. "Everyone who comes here likes it, but you hardly ever see flowering plants in offices. I think there are plenty of opportunities – for example, not by giving cakes but by using flowering plants as gifts. We would like to help the sector to develop that market."
Your company looks beyond breeding and propagation?
"We are specialists in Anthuriums and orchids and therefore we want to know everything about these crops. We have also had the air-purifying effect and the degree of toxicity of the plants tested in specialised laboratories. We develop and test many things ourselves, for example bouquets of cut Anthurium, pots with a water reservoir, and systems to make walls of flowering plants. We often involve growers, suppliers and customers at an early stage. They must eventually pick it up and develop it further."
This pioneering attitude was praised by the jury of the Horticultural Entrepreneur Award. Are you doing more in that area?
"We have a strategic partnership with four other floriculture breeders under the name GenNovation, with the idea of exploring the possibilities of new breeding techniques. KeyGene has mapped the DNA of both Phalaenopsis and Anthurium for us. That is a good basis. This allows us to make a better selection of crosses. Now it is up to us to work with that information. Our new 1.3 ha innovation and breeding centre will offer many opportunities to do so. The R&D staff are increasingly working on better varieties at a molecular level."
The jury stated that you have a lot of knowledge and craftsmanship that helps to further innovate and develop the sector. Do you agree?
"The jury mentioned the fact that 35% of our employees have high professional and academic qualifications. The knowledge and expertise mentioned above also apply to the rest of our employees. Only together can we innovate and develop. Not many people work in our greenhouses anymore. Many things are automated. Former director Nic van der Knaap has already given thousands of students and many others a tour of our company. Many are amazed at what they hear and the techniques they see. And that knowledge of statistics and technology is just as valuable to us as knowledge of growing. We have a broad demand when it comes to employees."
Do you fancy the ambassadorial role for the horticultural sector that you get as an award winner?
"Of course. And that feeling has been reinforced after the many nice reactions and congratulations we've received. We work in a beautiful sector. That is what we must convey. It may also be easier for us to get to the table with certain parties as prize-winners. We're looking forward to the experience."
Who would you like to talk to?
"The issues of sales, innovation and sustainability are still subject to various challenges. During the celebration of Anthura's 80th anniversary, we discussed this with stakeholders from various companies. There were some good, substantive discussions at the table. Now it is time to get on with it. If we do nothing, then nothing will happen.
We would like to play our part in all the three issues I mentioned. But then it must be clear what that role is and how we will proceed together with our chain partners. There are now various discussions ongoing about this."
How important is sustainability?
"It is becoming increasingly important. We are therefore involved in the FSI chain project, which aims to achieve a minimum of 90% of trade in sustainably produced flowers and plants by 2020. As a company, we invest in geothermal energy, solar panels, energy and CO₂ from OCAP (out of control action plan), among other things. Sustainability is not always purely business. A good example is our role in a project concerning an orchid that is threatened in the Swiss Alps. We helped with its propagation and replanting in the wild. We received the Plantum Sustainability Award for that project in 2018.
What challenges do you see in terms of sales?
"We know that sales of Phalaenopsis are currently problematic. The market for cut Anthurium has been difficult in the Netherlands since 2008. Pot Anthurium is performing reasonably well. With Phalaenopsis, the supply declines because growers either stop or switch to another crop, or because of technical cultivation adjustments that improve quality and reduce loss due to pot worm. I expect an acceptable market balance to be restored in 2019. We must be wary of negative and unjustified sentiments about price and supply. In the case of cut Anthurium, we have learned that supply decline does not always lead to market recovery, especially when there are substitutes in the market. Yet we still see opportunities for cut Anthurium. As for Phalaenopsis, the sustainable cultivation method, unique ornamental value and shelf life are easier to market."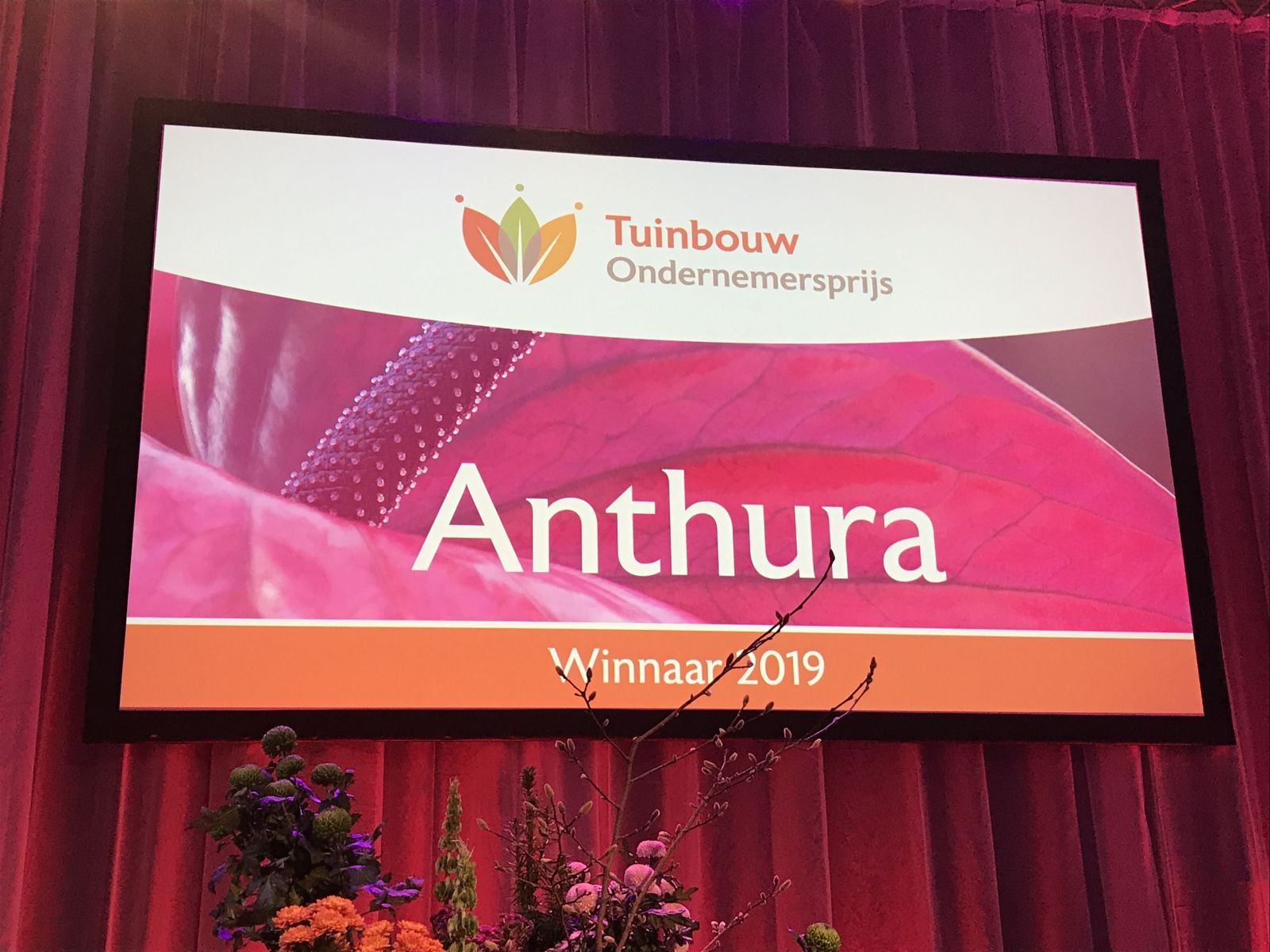 To what extent can you help growers?
"First of all, by developing better, more sustainable varieties. We can also help in the development of cultivation and sales in the Netherlands. This can be crop-wide and specifically per cultivar, market or company. But our sales are also abroad. So exports. We see China as the main growth market for our crops. The number of wealthy Chinese is growing by 40 million annually. There are already 450 million of them.
Anthura has production locations in the Netherlands, Germany, China and Macedonia and supplies more than 70 countries with young plants. The tissue culture of the young plants takes place in China and Macedonia. We work mainly with local staff at our international locations, because we assume that there are good people in every country," explains the director. "We are looking at how we can cement employees' loyalty to our company. Consultations often take place via Skype, but we also believe it is important to meet each other regularly in real life," says Iwan van der Knaap.
In 2018, the company celebrated its 80th anniversary. A festive year, with the icing on the cake being the Horticultural Entrepreneur Award in early 2019.