Interview with Rene Hendriks
Opti-flor: Creating Orchids
Opti-flor orchids bring atmosphere and colour to millions of European living rooms, offices and hotel lobbies. They also contribute to the exclusive look and feel of a wide range of international events. All the different orchids have one thing in common: they have been grown with the greatest possible passion and dedication. The motto of Opti-flor says it all: 'Creating Orchids'. We spoke with Rene Hendriks, the owner, along with Marco Hendriks and Raymond van der Knaap, about his passion for his company, 'his' orchids and his vision for the future.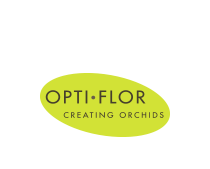 This year marks 90 years since the founding of Opti-flor. Can you tell us something about the creation and growth of the company?
In fact, the Hendriks family is 90 years old, because that is where Opti-flor originated. The company was founded in 1928 by J.W. Hendriks Sr and he grew all kinds of vegetables such as cucumber, cauliflower and lettuce. As soon as they started using heating, grandpa Hendriks started growing lettuce in the winter and tomatoes in the summer.
The collaboration between my grandfather and his sons Leo, Jan and Wim began in 1952. Later this resulted in Gebroeders Hendriks. I started working as an employee myself in 1981 and at that time we grew tomatoes on three hectares; at that time, it was a large and modern company in a very modern horticultural area. My cousin Marco Hendriks joined the company in 1991.
Bas Olsthoorn

, Gert Hoogendoorn (Anthura), Arjan Peeters,

Rene Hendriks

You switched to orchids in 1998. Why did you take that step?
In 1997, I took over the company from my parents with my cousin Marco Hendriks and the third generation really got down to work. We then wondered if we really wanted to be a part of the increase in tomato production along with our growers' association, Prominent. Our ambition was to create a product that reflected our name in the market. This was not possible with tomatoes, because the growers' organisation only ever talked about production volumes and the most suitable type of tomato for this. After an analysis, we finally switched to pot plant cultivation of Phalaenopsis, a capital-intensive cultivation and a product that we could market under our own name. This was already a major motivation at the time!
We wanted to familiarize ourselves with the product right away; the ambition was to achieve the best quality within three years. That is why in 1998 a completely new company was built with special cooling and lighting facilities to grow Phalaenopsis from tissue culture. In 2003 we stopped growing tomatoes after 75 years and started producing 12cm Phalaenopsis on 2.5 ha.
The name Opti-flor is now a household name in the Phalaenopsis world; every florist knows about us. How did you manage to achieve this?
When we started to focus entirely on the cultivation of Phalaenopsis, our goal was to segment clearly. We started with one table of 15 cm pot white, large-flowered Phalaenopsis per week and our segmentation strategy has led to the renown our name now enjoys. With this 15 cm pot white Phalaenopsis we have made a name for ourselves among florists and garden centres. For 20 years now we have been investing a great deal of energy in developing different segments, and this has been followed by the development of concepts.
"When we started to focus entirely on the cultivation of Phalaenopsis, our goal was to segment clearly."
What do you do to give your customers the best possible service?
In 2011, a study was conducted by the Product Board for Horticulture on plant brands and we scored quite well. This has really been a trigger to further build on! We provide consistent deliveries and excellent quality.
One of the most important things is the people who work in our organization who get this done on a daily basis. Our different locations each have their own management team. This gives us time for other long-term business. We can only be consistent in deliveries and quality together with the support of our 200 employees.
How do you keep surprising the market with beautiful concepts?
Florists and garden centres ask for Opti-flor orchids because of our brand experience, our delivery reliability and the quality of the product. In addition, the appearance and presentation of our products are also important. The difference is in the small details - for example, a clean Danish container without any old stickers on it. Everything must look absolutely impeccable and our client must be able to trust Opti-flor 'blindly'.
You should always keep telling your story, letting people know what you do and keeping your focus. This is in line with our core values of ambition, creativity, consistency, connectivity, effectiveness and transparency. We are looking for a 'blue ocean' and do not want to fight on the market with the same product in a 'red ocean'. We are constantly looking for new concepts with innovative value.
What do you expect from Anthura?
To achieve the goals we have been working towards with many suppliers, including Anthura, for many years. These are mostly regular suppliers who we have gathered around us over the years.
As a supplier, Anthura knows what we want and responds by developing new varieties and segments. We, in turn, also need to know what we want and make this clear to our suppliers. We don't want to breed and propagate ourselves; we have good suppliers for that. This allows us to focus on coming up with the best products and concepts for our customers.
What are the biggest challenges facing Opti-flor in the future?
The biggest challenge is how to strengthen the Opti-flor brand. Digitization is a tool here, and we are pioneering on online platforms such as Bol.Com, Flora@home and Love Flowers.
We also want to roll out more ready-made store concepts. We are also looking at other orchids so that we can become THE orchid supplier for our customers.
We also want to respond even more to the trend of convenience: helping consumers to maintain their flowers and plants, for example by solving the problem of watering. Look at home and clothing shops, where furniture and clothing are beautifully displayed, but where our orchids are often not nicely exhibited. If you buy steak or ice cream in the shop, you don't leave it in the back of the car on your way to the beach, but put it directly in the fridge at home. With Phalaenopsis, consumers often do not know how to treat the plants. Young people, especially, find the care of plants difficult, I think, so we have to make it easy for them. In the end, we can all sell more orchids and plants.
We hope to inspire the people who ultimately have our plants in their homes by making our orchids fun and charismatic. Sector-wide, we need to do this much more frequently. When I walk into a garden centre, I see tables with 'a bag of flowers' on them, but what is that? Why is a gift voucher number one in terms of gift items and not flowers and plants? What is the reason for purchasing our product? Does the customer want to congratulate someone, or say sorry? We can do much more with that.
What is your ambition as a consumer brand?
We want the Opti-flor brand to grow and we want to move towards being a consumer brand, but the question is how? It either costs a lot of money in the short term, or if you spend less it takes a long time. If we succeed, we must also be consistent. When does a consumer ask for Opti-flor? That is an interesting question that we first have to answer.
Where will Opti-flor be in 10 years' time?
We never used to celebrate anniversaries, but now we celebrate every five years. We started this at our 75th anniversary, because we wanted to spread the message to our customers and our employees that we are in this together.
In 10 years' time, our brand will be stronger, we will have a wider range and the organization will be further strengthened. In addition, we intend to continue surprising people with new concepts. We hope to be working with Anthura in 10 years' time. We are currently also actively looking at the role of the next generation. But that generation can explain this itself in an interview in Anthurinfo 10 years from now!
"We hope to inspire the people who ultimately have our plants in their homes by making our orchids fun and charismatic."